Since 2002, IAP 20 Group members have subscribed to the very highest code of ethical standards in the automotive industry and set the standard for excellence in their respective communities. It is our goal that members become better equipped to maximize profitability on a long-term, sustainable basis through a balance of customer retention and acquisition, expense control, operational efficiencies, and employee growth.
Current Members Log in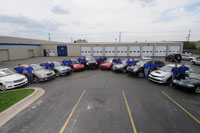 What is the IAP 20 Group
The Import Automotive Professionals 20 Group is a network of independent shop owners that share ideas, knowledge, camaraderie, and experiences through periodic conferences, financial composite analysis and constant online communications. Our member website includes a Technical Knowledge base, Technical Forums, Management Forums, Financial Composite, and Parts Price Index, among other features.
read more